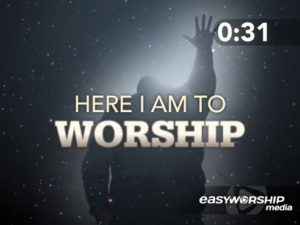 One of my favorite places in 2 Chronicles is from 2:1–6:2 and 7:1-3. This lengthy Scripture records the building of God's house. In the middle of all the details about materials and furnishing you will find a description of an OT worship service.
Consider structuring your sermon around the following (providing you have already taught a theology of the temple in previous sermons as I had):
The character of our God (vv. 5:13b; 7:3b). It should go without saying that our worship centers on our God. In this section we find repeated, "For he is good…" Think about how we use this word in daily life–"that was a good meal, movie, book, or day"–and you quickly realize we've got some work to do explaining the goodness of our God. The other character trait of our God is his loyal love (the important Hebrew word, hesed). Nothing sets off a worship celebration like focusing on the goodness of our God.
The glory of our God (vv. 5:13c-6:1; 7:1-2). In this section "the glory of the Lord filled the temple." 6:1 describes "thick darkness." There's a mysteriousness about our God's presence. Even in Exodus 24:9-11, for instance, when we read, "they beheld God," we learn that, "There was under his feet…" So, we don't really see God, but only what He was "standing on." It's good for us to remember that our glorious God who matters most, is present with His people. We're never alone in this world. God is with us.
Finally, our response to His goodness and glory is seen in 7:3. We read, "they bowed down with their faces to the ground on the pavement and worshiped and gave thanks to the Lord…" Our worship always includes this same humble attitude, if not the same humble posture.
And if you're wanting to read Chronicles Christologically, you certainly can remind your faith-family from John 1:14 that "the Word became flesh and dwelt among us and we beheld his glory…" That vision of our glorious Christ continues to drive our worship services.
May we preach about worship in our worship services so God receives glory in the church and in Christ Jesus (Ephesians 3:21).
Randal