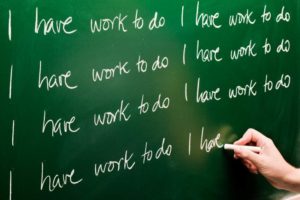 When you reach 1 Chronicles 23:1 through 27:34 you encounter my toughest section to date. King David gives instructions to prepare for the building of the house of the Lord. What makes this section so difficult is, (1) it's sheer size and detail and (2) needing to decide what temple details correspond to our worship and service.
McConville says that these five chapters provide "a picture of the people of God organized for the life of service" (p. 91). So, we urge our faith-families to worship by following the patterns presented by their temple service.
Here's how I approached the section:
Title: "Direct our hearts toward you, O Lord" to do your work in the church and in the world.
There is work to be done (23:4, 24, 28, 32;24:3, 19; 25:1; 26:12, 30). Nine times you'll read, "work and duties." The NT is not the only place to find the subject of spiritual gifts.
There is praise and blessing to offer (23:5, 13). A neglected discussion pertaining to worship services is the pronouncement of blessings (cf. 23:13). It's a time to announce: "You are the recipient of God's special powers."
We're characterized by humble service (24:5, 31; 25:8; 26:13). This is fascinating: everyone submits to casting lots to receive their ministry description. Social standing had nothing to do with the ministry you got.
There's lots of singing and instrumentals to offer (25:1, 6-7). This is a great time to rally your faith-family around the importance of music within the context of a worship service. I hope your church is fortunate to have people who use their musical talents. For some reason God has always appreciated music as an integral part of worshiping Him.
There's skill involved (26:6-9, 30-31). Evidently, non-skill would not honor the glory of God. God is worthy of our best talent and skill.
Finally–everyone's favorite–there's money management (26:20, 22, 26-27). There's hardly ever a bad time to talk to your faith-family about their financial habits. There's so much disciple-making work to be done across the street or across the seas. And it takes a ton of money.
Finally, if you are interested in a Christological reading of this section of Chronicles, you can refer to the construction language in Ephesians 2:19-22, "…members of the household of God…Christ himself being the cornerstone, in whom the whole structure…grows into a holy temple in the Lord."
Preach that tough section well so God receives glory in the church and in Christ Jesus (Ephesians 3:21).
Randal
P.S. Unless you divide this message into two or three parts, you will need to cover these sections quickly. Due to my earlier teaching through Exodus, in this Chronicles section I decided not to go into details about the significance of the temple furniture and procedures.